Group Evening March 13th 2019 – Ashley Hall IAM RoadSmart Ambassador (Transcript from RoadSmart Magazine Autumn 2018)
I'm really excited about becoming an ambassador for lAM RoadSmart, because improving road safety is a huge and worthwhile challenge.It seems to me that there's been quite a dive in road safety over the past few years.and that needs to change.I spend a lot of time driving on motorways.and at times I find it impossible to drive according to the Highway Code.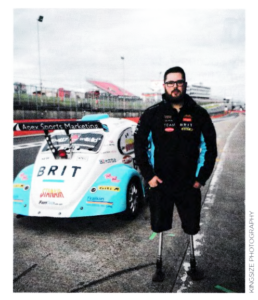 Of course I'm also looking forward to doing the advanced driving course. (Ashley completed the course and passed his ADT with a F1rst). I compete for the Team BRIT racing team so I'm used to driving competitively, but advanced driving will mean having to learn from a new rule book:it may be a challenge to separate the two types of driving.
I've always been a big driving fan and I got into racing last year when I joined Kart Force.a charity linked with Team BRIT. We decided to try to break the Guinness World Record for the longest distance travelled in twenty-four hours in a go-kart. Our team of four drivers clocked up 1888.6 kilometres breaking the record. It was an intense experience, because the go-karts have no creature comforts and we were subjected to massive g-forces driving them.
Team BRIT spotted me at last September's Invictus Games in Toronto where I competed in power lifting and was in the Silver Medal winning wheelchair rugby team. Sport has been really important to me in regaining my confidence and building my fitness since I sustained my injuries in 2010 in Afghanistan.
I joined the Royal Engineers in 2007 and went to Afghanistan in 2010, working in a team that looked for and destroyed improvised explosive devices. (IED's). Four months into our tour I was hit by an IED and It caused serious injuries including shattering my pelvis.I had both my legs amputated above the knee.
I've had many surgeries since then and was in rehabilitation until 2017. I couldn't get on with the prosthetics with conventional sockets, but I eventually found out about an osteointegration operation that involves attaching a titanium rod directly to each femur.This means I don't have to use the usual prosthetic sockets and it also means I can drive a manual car with foot pedals.
The Team BRIT cars have hand controls.but I love competing in them. My involvement with the team started in October 2017 when Dave Player, who runs their Fun Cup Team, asked me to take part in a rookie racing day. They were impressed with my driving and asked me to join. I'm also interested in riding motorcycles and am currently building an electric bike based on a Honda CRF motocross machine.
I love taking new challenges and that's why I am looking forward to being an IAM RoadSmart Ambassador. I believe that it will give me the chance to learn important new skills and inspire others to do the same.
RoadSmart Autumn 2018 Edition
Group Evening 9th January 2019 – Pat Doughty from IAM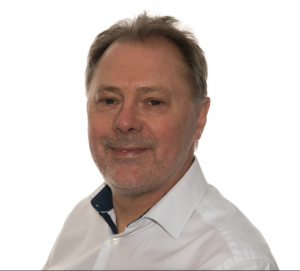 My position at IAM RoadSmart is Operations Director, my responsibilities cover the contact centre which covers charity enquires, group support, commercial driver bookings for Drive and Survive and Drink Drive Course Administration. I also have full responsibility for deliverance of group support, observer standards, trainer recruitment and management, and Skills days. In a nutshell I manage all service delivery, standards and support whether it is for the charity or our commercial
My presentation will cover
General business update, where the IAM is going for the future
Insurance update
Driver-less cars and the position  of IAM RoadSmart
Free Taster Sessions Available
The Wolverhampton IAM Group offers free "Taster Sessions" for any driver interested in having their driving skills reviewed by a qualified IAM Group Observer, (a saving of £39 over the normal fee).
The only requirement is that you hold a full UK Driving Licence, that your car is street legal and that you have insurance. (We will ask you to sign a simple declaration to this effect at the time of the drive).
What to Expect on the Day of the Assessment?
Your driving assessment is an opportunity to try out some of the techniques developed in our Advanced Driving course with the guidance of an experienced Advanced Driving Observer.
You'll get a feel for how acquiring new skills can help you stay safe, grow in confidence and get more enjoyment from your driving – plus you'll gain an insight into the IAM and how we help drivers develop.
The drive will take place in your own car and lasts for around one hour.
What Happens Next?
Once you've completed your assessment, your Observer will give you some useful feedback regarding the drive you have just completed and answer any questions you may have.
There's no obligation to do anything further – it's all part of our commitment to encouraging a love of driving and enhancing road safety.
If you decide you would like to develop your skills, your Assessor can tell you more about Advanced Driving and the benefits of IAM membership.
Use this opportunity to simply check your capability or ask any questions you may have about how the IAM works and the opportunity it provides, as a charity, to improve driving safety and enhance driving pleasure despite the difficult road conditions we all live with at this time.
If you would like to have a taster session please e-mail our Group Secretary by clicking here. Please put "Taster Session" in the Subject Line.