Easter Break Tips from IAM RoadSmart (Released 17th April 2019)
If you're planning a Bank Holiday getaway then be sure to read our tips on how you can make your journey a safe and stress-free one, because a little preparation goes a long way.
Take some time to check your vehicle inside and out before you set off. Check the tyre pressure and fluid levels are right and make sure your car ancillaries are working properly
Secure your luggage in your boot so it's out of the way and doesn't obstruct your view
Give yourself plenty of time for the journey and check the news for any traffic updates and roadworks nearby. Use the WAM website for local traffic updates. (These are continuous feeds from all the regional emergency services)
If you're travelling during the early hours or late in the evening make sure you take some rest beforehand and eat something light so you don't feel sluggish before you leave
If you plan on using a sat-nav don't forget to programme in the destination before you leave and check it. Leave plenty of time for the journey so you don't find yourself pushed for time.
Make sure you take regular rest breaks to split up the journey when driving on a long, boring stretch of a motorway. It's good practise to stop at least every two hours
If your journey is a long one, take some time to plan where and when you will be taking a break, just so you can get a little rest and have some water to stay hydrated. Enjoy the journey and more importantly, enjoy the getaway.
Dealing with Vulnerable Road Users (Released 10th April 2019)
As we make the same commute every day to work and back, we can get used to seeing pedestrians on the streets, motorcyclists on the road and even a few cyclists appearing now that the season is officially changing and the weather is improving. This can sometimes mean we get a little too used to the things around us and may unintentionally stop paying attention to our surroundings.
Check to see the type of pedestrians around you. Do you see an elderly person crossing the road? They may be walking slowly so ensure they feel safe by reducing your speed. Children can be easily distracted and are unpredictable too, especially when crossing the road, so do all you can to help them out. Drive with care and be vigilant as a few extra seconds added to your day may make all the difference.
A cycling club will often cycle as a group rather than in single file. This makes it safer for all of us; a simple overtake on a short group is often easier and safer to achieve than thirty overtakes on separate cyclists. Before you overtake them, make sure you have given them enough room as they could adjust their road positioning unexpectedly for a pothole or drain. A few seconds delay is better than a lifetime of regret. It's always good to remember that a young, fit individual on a bike is likely to be more stable than an older person doing their shopping run.
Take note that there are two types of mobility scooters. Class 2 Mobility Scooters are only allowed on pavements and have a top speed of 4mph. Class 3 Mobility Scooters should be registered and are driven on the road with a top speed of 8mph. Bear in mind that this group of road users may have restricted movement, vision or hearing so give them plenty of space and time.
Have you thought about taking a more scenic route now that the days are getting lighter for longer? You may come across a horse and its rider walking along the side of the road. To avoid scaring the horse, turn the radio down and keep the engine revs low. Slow down and take your time when passing a horse. Keep your car well away from them and proceed with caution.
Who has heard of SMIDSY ("Sorry mate, I didn't see you")? This is a regular acronym in a motorcyclist's dictionary and often our strategy when looking for a culprit! The science behind this is called Saccadic Masking. The simple explanation is that people don't see clearly when their head or eyes are moving, and they don't pick up objects travelling towards them very well. So make sure you have a good look, not just a quick glance. A good tip is that if you're specifically looking for motorcyclists or cyclists, then you are more likely to see them.
Richard said: "The importance of sharing the road space and understanding the needs of other road users cannot be stressed enough. If we are aware of vulnerable road users, we can make provisions to keep us all safe. Remember to treat others how you would like to be treated."
Better Drivers Can Reduce Road Deaths and Injuries in the UK (Released 9th April 2019)
In his new role as Chairman of IAM RoadSmart, the largest independent Road Safety Organisation in the UK, Managing Director of Ford of Britain, Andy Barratt, has pledged to focus on driver behaviour in the road safety debate. (Andy has taken on the prestigious role of IAM RoadSmart Chairman from Ken Kier OBE, who steps down this month having been in the role for three years).
In his new position, which started on 1 April 2019, he launched a revamped IAM RoadSmart Manifesto. The Manifesto highlights the seven areas where IAM RoadSmart believe they can make the most impact in reducing the number of people killed and injured on UK roads. With an emphasis on the potential that improved driver and rider behaviour could have on the safety of our roads, the Manifesto acknowledges the importance of driving to both the economy and business, it is seen as a core skill for business and a health and safety responsibility for all organisations in the public and private sector.
The new Manifesto will form the basis of a submission from IAM RoadSmart to the House of Commons Transport Committee Inquiry into Road Safety.
Speaking of his appointment, Andy said: "To be appointed Chairman of IAM RoadSmart is an honour. I wholeheartedly support IAM RoadSmart's Manifesto pledge that post-test training is vital for safer roads. I'm delighted to be taking a leading role for a charity whose principal purpose is to make better drivers and riders.  In my roles at Ford, developing safe vehicles is the number one priority. In taking the Chair of IAM RoadSmart, my focus will be to ensure that human factors are high on the road safety agenda in order to reduce the number of people killed and seriously injured on roads in the UK. As a cyclist, driver and pedestrian I've been pleased to lead Ford's 'Share the Road' initiatives, encouraging cooperation and understanding between road users. As a motor industry representative chairing IAM RoadSmart, I believe that we can continue to find common ground, cooperation and practical ways forward to make sure that real change happens, with vehicle makers, politicians, the media, and with all road users."
IAM RoadSmart's Manifesto focuses on the importance of boosting the confidence of drivers and making it an enjoyable activity, while keeping everyone safe at the same time.  Embracing all stages of a driving and riding career from immediate post-test into older age, the Manifesto underlines the importance of periodic refresher courses. It also includes extending driver rehabilitation after a conviction for a wider variety of motoring convictions, it also highlights the changing world of new technology as the switch to autonomous and connected vehicles continues to gather pace.
Mike Quinton, IAM RoadSmart Chief Executive Officer, said: "I am delighted that we have attracted someone of the calibre, standing and seniority in the UK automotive industry as Andy to the role of Chairman. I am confident his knowledge and contacts will be invaluable in driving us forward and I look forward to drawing on his skills and leadership experience."
Dealing with Low Sun Whilst Driving (Released 3rd April 2019)
Now that Spring is here, the sun is rising earlier and flowers are blooming; however, being dazzled by the sun can be a major distraction and is often a factor in Summer collisions.
Even though we have many tools that aid in protecting us from the glare, we often forget to use them.
Keep your windscreen clean both inside and out; a dirty screen will magnify the glare and create a distraction
Check your windscreen for chips or cracks, replace worn wiper blades and make sure your washer bottle is kept well topped up with good quality screen-wash to help remove those Summer bugs and keep windscreens smear free. (A periodic clean of the outside of the windscreen with white vinegar will help keep it free of traffic residue)
Keep a cloth or chamois to wipe away the dirt that builds up on the inside; do not be tempted to do this cleaning whilst on the move
Use your sun visor. It may sound obvious but a surprising number of people forget that the facility is fitted to their vehicle
Invest in polarised sunglasses and remember to take a rest. Your eyes will strain quickly if you are squinting. Read our sunglasses tips for more information
If you are dazzled by the sun, slow down and leave extra space between yourself and the driver ahead
Remember that when the sun is low behind you, you might be able to see clearly but oncoming drivers might not
It's easy to get distracted when the sun is out and the world seems a better place. By keeping the screen clean and your view shaded where possible, you will give yourself the best chance of staying safe. If you are wearing sunglasses, bear in mind that the protection they offer will be magnified by any tinted windows and remember to keep them clean and be ready to take them off in tunnels or shaded areas. (Those of us who wear prescription spectacles should have a pair of current prescription sunglasses always to hand,the clip-on lenses are not recommended as they often create distortion when used with other lenses.
A Spanner in the Works – A Blog of Interest from Tim Shallcross (Released 3rd April 2019)
I was visiting a classic car show recently and chanced across The Motor Repair Manual, a book for the home mechanic dating from the 1930s.
The term DIY wasn't invented back then, but the sub title A Practical Handbook for Owner Drivers And Amateur Mechanics makes the intended readership clear. The first section deals with the tools and equipment the home mechanic should expect to have in his workshop … the 1930s home mechanic is, of course, a chap.
Apart from the spanners, drills and hammers you'd expect, advice is given on choosing a good lathe (of course you need one – how else would you obtain a washer?) along with guidance on the furnace you need for annealing, tempering and case hardening metals – essential skills for making bushes and bearing scrapers or flanging pipes.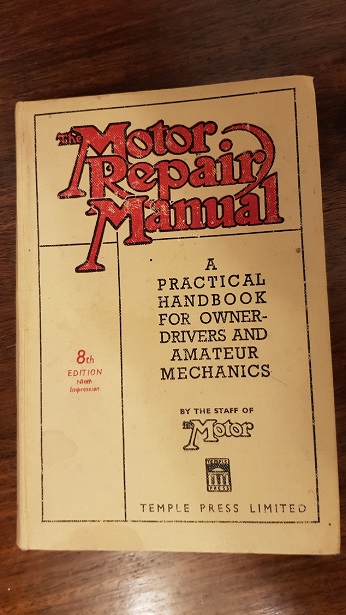 All this reminded me how much car owners were expected to do to keep their cars on the road; it was intriguing to see the classics at the show, and to recall how many British manufacturers encouraged the driver to be his own mechanic by providing a pretty comprehensive tool kit with the car.
This was not just wheel changing essentials such as a jack and wheel brace. Screwdrivers, adjustable wrench, a big hammer (always a mechanic's friend) and of course, the inevitable grease gun, were all tucked away for use by the owner.
Concealing the tool kit led to some innovative designs as well; a 1933 Singer, more or less contemporary with the book, shows an impressive array of tools mounted on a tray under the bonnet, while other car makers installed trays or secret drawers. The practice of supplying a tool kit continued after the war.
Triumphs came with a tool roll in the boot, as did MG cars. The Sunbeam Talbot had a panel covering the inside of the boot lid which let down to reveal jack, stirrup pump, wheel-brace, starting handle and grease gun. Rover continued to supply a comprehensive set of spanners, screwdrivers and pliers, along with body touch-up paint, in a special drawer right up to the last of the 3.5 litre saloons in 1973.
My own fascination with the mechanical bits of cars started in the era of proper car toolkits, feeler gauges, tappet spanners and the smell of Swarfega! Grease guns were mandatory since all cars had various points on the chassis and suspension which must regularly be lubricated. The points were called grease nipples, much to the sniggering a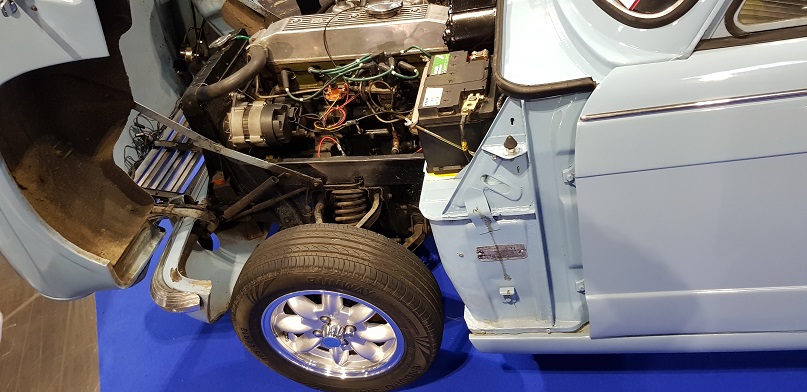 musement of adolescents passing their father the spanners on a weekend afternoon.
More upmarket owners weren't expected to get their hands dirty of course, chassis lubrication on Rolls Royce and Bentley cars was by means of a pedal operated pump which the owner (or maybe chauffeur) had to press every so often. This was also featured on some MG's. The MGY even had the Smiths Jackall built in hydraulic jack system, operated from the driving seat and advertised as making it simple for the owner to adjust the brakes, as well as for wheel changes. My interest with mechanical details evolved into a job and many years ago I was an AA Patrolman, working on the cars which now grace the aisles of the show.
Triumphs were always a favourite of mine; not because of their looks, performance or handling, but because with the forward opening bonnet raised, you had a very handy seat on the front wheel while working on the engine. Today, even the wheel-changing kit is vanishing as car makers wean us off our desire for a spare wheel.
All my current Mercedes has is an electric tyre pump and a can of sealant; although BMW and Mercedes-Benz did carry on with tool kits long after the British, still supplying some models with a decent array of spanners to get the owner out of trouble until well into this century. Is this progress? Well, yes, modern cars need far less attention than those of my youth; no nipples to grease, no tappets to adjust, no contact breakers to clean.
A service is now an oil and filter change and a visual inspection of everything else. Most things under the bonnet are electronic and run by computers, the remaining mechanical bits last for tens of thousands of miles, rust is rare and reliability is more or less taken for granted.They go the equivalent of half way around the world before any servicing is needed and if we take a few minutes to check the levels regularly, they can soldier on to astronomical mileages.
Tool kit? It's in the shed with the lathe and the furnace!
New Laws on Car and HGV Safety Systems a Potential Licence and Life Saver (Released 27th March 2019)
IAM RoadSmart has welcomed moves to make Autonomous Emergency Braking, (AEB), standard on all new cars within three years, calling it an undoubted life-saver.
A provisional European Union agreement on the legislation was reached on Monday 25th March 2019. The rules include requirements for AEB which can detect and react to pedestrians and cyclists in front of the vehicle, as well as the installation of overriding Intelligent Speed Assistance (ISA). Additionally new lorries will be expected to have better levels of direct vision to give drivers a better chance of seeing vulnerable road users such as pedestrians and cyclists.
Neil Greig, IAM RoadSmart Director of Policy and Research, said: "It should be remembered that excessive speeding is a factor in 14% of fatal collisions whereas human error is present in 64%. Speed limiters have a role to play but on their own cannot eliminate all collisions. Advanced Drivers don't need to be reminded electronically what the speed limit is, but for others it could be a real life-saver, and help people to not lose their driving licences. ISA as proposed for all new cars after 2022 will be able to be overridden so it is not the 'Big Brother' solution that some sources suggest.
Are Your Wheels Too Tyred To Drive? (Released 27th March 2019)
It's important to regularly check your tyres to see if they're fit and healthy to get you from A to B safely. That's why IAM RoadSmart's Head of Driving and Riding Standards, Richard Gladman, has put together some top tyre tips to help you stay safe on the road.
Check your tyres regularly. We recommend weekly vehicle checks which include inspecting tyre pressure, tread depth and the overall tyre condition
On a car ensure that your tyre's tread depth is at least 1.6mm
Use the 20p Test by checking your tyre tread with a 20p coin as shown below, placing it into the main groove of your tyre. The outer band of the 20p coin should be obscured when it is inserted.
Always ensure that your tyres have the correct pressure. You can find this information in the vehicle manufacturers' handbook, on the inside of the fuel filler cap or driver's door sill, and you can get this information when purchasing tyres.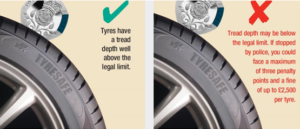 Driving with Technology (Released 27th February 2019)
Mobile communications and GPS systems used as sat-navs are becoming very common in cars. Whether you are connecting your Bluetooth to blast tunes or looking for the nearest Waitrose, these have become a fundamental part of the daily drive for many of us.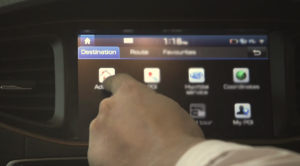 Whilst a sat-nav aids in getting you from A to B try to not become reliant on it. It is important to pay attention to road signs and the road ahead, in case there's a diversion sign that the device may not have picked up.
Get to know your sat-nav before you set off and always programme it when stationary. Many people trust their sat-navs not to get them lost but you also need to know about roadworks, diversions and places to stop. Keep an old fashioned map to ensure that you limit the chances of going completely off track
Create your playlist before you start your journey. Taking your eyes of the wheel to look or adjust your music can often prove to be hazardous. It only takes a few seconds distraction to cause an accident. Remember to also keep your music down in some circumstances; your hearing can keep you safe, so be prepared to turn the music off
Don't make or take calls when driving and never text or engage with social media on your smartphone. Through extensive research it has been shown that making calls, even hands-free, affects concentration and slows reactions when driving
Some vehicles have the ability to create a Wi-fi zone allowing internet access. This should be used as a luxury for passengers whilst ensuring they do not distract you as the driver. For instance a computer screen reflecting in the dark is a dangerous distraction
The latest driver assistance systems can be the perfect back-up to cover our occasional human failings but are no substitutes for concentration. The driver must always remain connected to what is going on around them.  Multi-tasking is a myth and all too often that glance away can become a complete switch-off to an emerging risk.  No text, tweet, check in or status update is worth crashing for.