Don't Let Your Commute Leave You Feeling Defeated (Released 12th June 2019)
The following tips may help you feel less jaded about your daily commute.
Check your route. The majority of people travel to work at the same time so it's always a good idea to plan your journey. Take a look at the route you're taking to see if there are any incidents or roadworks that can cause delay. If there are, can you take another way to work?
Keep an eye on the road. Driving on a busy road can be intense; one minute you're driving smoothly and the next you're having to stop and start. It's crucial that you're always on the ball and stay alert throughout your journey
Watch out for other road users. This links to keeping your eye on the road. Make sure you regularly check your mirrors for any motorcycles or cyclists that are passing or filtering. Busy roads can also mean your vision is limited so be sure to look out for any pedestrians crossing the road
Check your car on a weekly basis. Commuting to work on a daily basis can take its toll on your car. That's why you need to give it the care it needs. Make sure you check your oil and fluid levels as well as lights, tyre pressure and condition every week
What's the weather going to be like? Checking the weather beforehand can give you an idea of when to leave. Not only this, it can prepare you for your journey so you don't feel anxious about getting to work on time
Our daily commute can become the time we pay the least attention to our driving, don't let yourself become complacent. Plan it as if it was a new adventure each day and try to keep your concentration levels up. If you can vary the route it may keep you interested and the change of scenery may be enjoyable. If you can stagger your start time you may be able to avoid the worst of the traffic."
---
Keeping Your Car Above Water (Released 10th June 2019)
With heavy rain and thunderstorms forecast for the rest of the week, IAM RoadSmart has put together some crucial advice to help you drive safely in the rain.
Heavy Rain
Heavy rain will affect your visibility, so take it slow. Rule 126 of the Highway Code states that the braking distance between yourself and the vehicle in front of you should be two seconds when driving on a dry road, and at least four seconds in the wet. It is even longer on icy surfaces. IAM RoadSmart recommend up to 10 times the braking distance when driving on ice.
Your windscreen should be clean, wipers effective and the jets positioned correctly and aimed at the screen. It is sensible to clean the windscreen, make any necessary adjustments and remove any dirt or smears from the main area of the screen before you start your journey.
A good rule of thumb is that if you need windscreen wipers, then you need your headlights. Automatic light settings will not always activate in bad weather conditions, so it is up to you to make a sensible decision as to whether these need to be turned on.
Aquaplaning
If water is standing in puddles on the road surface, your car is at risk of aquaplaning. Aquaplaning is where a wedge of water forms in front of the tyre and lifts it up off the road surface. This is caused by the tread not being able to displace the amount of water present. To recover form aquaplaning, ease gently off your accelerator, have a firm grip of the steering wheel and be sure not to make any sudden steering actions. The car will eventually regain its grip as the water clears.
Floods
First ask yourself, can you take another route? If not, then you need to identify how deep the flood is. If the standing water is more than six inches deep, avoid driving through it. If you are familiar with the road, you can judge the flood in relation to the kerb.
If heavy rain was not the cause of the flood, then what was? And what impact on the road does it have? For example, if it is a burst water main, the standing water may look like a normal flood but the road surface beneath the water may be completely broken up. If you are unsure how the flood has formed, then avoid it altogether.
Are there other vehicles similar to yours that are safely driving through? From this, make a judgement call as to whether it is safe to travel through or not.
If the water is fast flowing, do not attempt to drive through it, as there is a real danger of your car being swept off the road.
If you have taken everything into consideration and decide to drive through the flood, be sure to do so slowly. The best approach is to press lightly on your clutch and add gentle pressure on your accelerator to increase your engine revs. Do so without increasing your speed, in a similar way to how you would undertake a hill start. This will prevent water from entering your exhaust. If you are in an automatic car, accelerate slightly but control the speed with your brakes. When you have passed the flood, test your brakes to make sure they are dry and working properly.
If you are in the slightest doubt, then turn around and don't go through the flood. Often modern saloon cars have the air intake in the wheel arch, which may be below the water level. If your engine should take in water, it will immediately hydro lock and the engine will stop.
Remember to stay alert and avoid splashing pedestrians. If this is done accidentally, you could receive a fixed penalty and three points on your license for driving without due care and attention, or without reasonable consideration for other road users. If deliberately done, it could be a public order offence, a court appearance and a fine.
Richard Gladman, Head of Driver and Rider Standards, said: "With the British weather the way it is, we should all be well practised at driving in the rain. Keeping your car maintained and the rubber (wipers and tyres) in good condition will help you stay safe. In the recent extremes, we have seen that standing water and floods are becoming more commonplace, so take extra care and if possible avoid driving through standing water. If you're in any doubt about the depth or surface underneath a flood, then it's best not to take any chances."
---
Don't Let a Puncture Leave You Feeling Tired (Released 5th June 2019)
Sometimes the roads we drive on can be unpredictable which can lead to a puncture; this could mean cancelling our plans and waiting in a safe place for the breakdown recovery team, but we could soon be on our way if we were able to change the tyre ourselves. Richard Gladman, IAM RoadSmart's head of driving and riding standards, provides some useful advice on how to change a tyre.
If it is possible, pull off the road to a safe area. If you have to stop on a road, place your warning triangle at least 45 metres behind your vehicle, but not on a motorway. Activate your hazard warning lights to warn other traffic. Raising the bonnet or hatchback will help other traffic realise you have an issue. If you have a passenger, get then to act as spotter and warn you of approaching traffic.
A level hard standing will be best as soft ground will not allow the jack to be used correctly. If the ground is not suitable you may need assistance from a professional.
Locate the jack and wheel brace, it may help if you do this during your weekly vehicle checks so you know where it is and how to release it. This is also a good time to locate the jacking points and find out how the jack works. Often the kit will have a wheel chock; use this on the other axle of the vehicle to assist keep it still.
Loosen the wheel nuts slightly before you start jacking the car up, the vehicle will be unstable after you raise it and you will not be able to get as much leverage. Remember one of the nuts is likely to have a lock function and will require the unique key.
When jacking the vehicle you will need it to be raised high enough to fit the new tyre (this will be higher than required to remove the old). Wear gloves when handling the old tyre, if it has punctured it is likely to have sharp steel protruding from it
Tighten the wheel nuts until the wheel sits squarely on the hub and then lower the jack. Further tighten the wheel nuts with the vehicle stable. You will need to get the wheel nuts checked for tightness by a professional (when you repair or replace the punctured tyre). If fitting a space saver spare, remember the restrictions that imposes i.e. no more than 50mph, (80kph), and should be used to get you to a place of repair – not as a substitute for the correct tyre
Avoid changing your wheels on the hard shoulder of a motorway. If you have a puncture on a motorway, use the emergency phones to contact the motorway control room and they will send assistance to protect the area if required. Or arrange for your breakdown recovery organisation to assist you
Punctures are much rarer these days but the risk associated with conducting a tyre change has increased with the volume of traffic. Safety has to be your main concern but if you cannot get to a safe area to make the change; get the vehicle off the road and call for assistance. A vehicle recovery service will have access to professional equipment which will allow a much speedier repair to be conducted. If you are in any doubt, call for help.
---
Is Heavy-metal music the Driver's Enemy? IAM RoadSmart and Auto Express Research say It is! (Released 29th May 2019)
Metal merchants beware! Research by Auto Express Magazine and road safety charity IAM RoadSmart has found that heavy-metal music could cause motorists to lose their cool behind the wheel and become almost as extreme as their guitar god heroes and the calming tones of classical music might not be much better, encouraging too much relaxation and slowing drivers' progress however pop music could be just the ticket, creating the perfect atmosphere for smooth and controlled driving.
In a study to discover the effects of different types of music on driving style and safety, Auto Express and IAM RoadSmart used the high-tech racing rig at simulator experts Base Performance Simulators near Banbury, where drivers from the world's top racing series go to hone their skills. The findings from the research are published in Auto Express today (The issue of 29th May 2019).
During the test, consumer reporter Tristan Shale-Hester was tasked with undertaking two simulated precision laps of the Grand Prix track Red Bull Ring in Austria while listening to songs at full volume from four different genres of music, thrash metal, hip-pop, classical and pop. The two-lap test involved fast acceleration, a series of technically challenging corners and a speed-limited zone, completed by a controlled stop on the finish line at the end of the second lap. After setting a control lap time with no music of four minutes 34 seconds, Tristan tried the same test again while listening to the fast and noisy song '(sic)' by heavy-metal band Slipknot. Tristan was a staggering 14 seconds slower and his throttle movements were far more jagged while listening to the metal compared to the control lap, and admitted listening to Slipknot made it harder to concentrate on the circuit layout.
Tristan made his next attempt listening to classical music, with the dulcet tones of Bach's Goldberg Variations on his headphones. But while Tristan's driving was better with Bach than with Slipknot, he was 12 seconds slower than his control lap, dropping his speed to just 35mph in a 50mph zone without noticing.
Then came 'Shake It Off' by Taylor Swift. Tristan's time when listening to the bouncy pop classic was only two seconds slower than his control time, and IAM RoadSmart expert Tim Shallcross said that it was on this test that Tristan's laps were "smoothest in terms of speed consistency."
Finally came the complex hip-hop song 'Humble' by Kendric Lamar; although driving to this helped Tristan to a time just one second slower than the control lap, it caused him to overshoot the finish line by four car lengths, a potentially dangerous 70 foot!
Steve Fowler, editor-in-chief of Auto Express said: "Much of the focus around distracted driving is on using a handheld mobile behind the wheel, and rightly so. But Auto Express's joint research with IAM RoadSmart shows that as well as making a conscious decision to put their phone away when driving, motorists should also think carefully about what music they listen to. While heavy metal was clearly linked to Tristan's worst lap, classical music fans may be interested to learn that some pieces appear to promote too deep a state of relaxation to be listened to when behind the wheel."
Tim, IAM RoadSmart head of technical policy, added: "What is clear is that the ferocious thrash metal really reduced the ability of the driver to get around the track smoothly. That, and high-energy dance music, are designed to be felt as well as heard, and to be listened to at volume. It's clear neither help when it comes to making exacting driving manoeuvres. Volume is the major factor for concentration and has a big effect. I would certainly advise drivers to dial down the noise when making a manoeuvre and save the thrash metal for later in the day, or night!"
---
Driving a New Car ((Released 29th May 2019)
Buying a new car is an exciting experience, but there are a few things to bear in mind as you drive your pride and joy away from the showroom.
Allow the brakes to bed in. Start driving gently and avoid harsh accelerating and heavy braking. It's good to remember that the tyres will last longer if they're treated gently for the first few hundred miles.
Check the coolant levels and oil frequently. The oil consumption may be relatively high for the first 5,000 miles as the engine parts gradually loosen up, but it should then settle down.
If possible, avoid long runs at constant engine speed for the first 1,000 miles or so; varying the engine speed helps the parts to start working together over the full speed range
Fuel consumption will also gradually improve as the moving parts wear in, so don't be too disappointed if your first tankful doesn't take you as far as you hoped. It is quite normal for mpg to increase gradually over several thousand miles
Buying a new car is exciting, but it is also a substantial investment. Treating it with a little restraint to begin with will help all the parts to perform at their best for longer and more reliably. This will also help you get the feel of the car before you fully exploit the performance.
---
he Bank Holiday Getaway – Be Prepared (Released 24th May 2019)
If you're planning a Bank Holiday getaway, here are a few helpful hints from IAM RoadSmart's head of driving and riding standards Richard Gladman to help you prepare for your trip.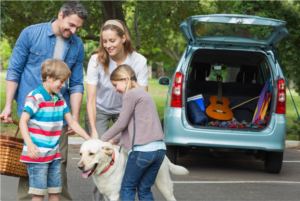 Take some time to check your vehicle inside and out before you set off. Check the tyre pressure and fluid levels are right and make sure your car ancillaries are working properly
Secure your luggage is in your boot so it's out of the way and doesn't obstruct your view
Give yourself plenty of time for the journey and check the news for any traffic updates and roadworks nearby
If you're travelling during the early hours of the day or late in the evening make sure you take some rest beforehand and eat something light so you don't feel sluggish whilst driving
If you plan on using a sat-nav don't forget to programme in the destination before you leave and check it. Leave plenty of time for the journey so you don't find yourself pushed for time
Make sure you take regular rest breaks to split up the journey when driving on a long, boring stretch of a motorway. It's good practise to stop at least every two hours
With so much planning involved in a holiday, many of us forget about the first bit, how we get to our destination. If your journey is a long one, take some time to plan where and when you will be taking a break, just so you can get a little rest and have some water to stay hydrated.
---
Driving to Festivals (Released 22nd May 2019)
The festival season is here which means a lot of us will be climbing over dusty boxes and making our way through the shed like it's some kind of assault course to get to our camping gear. Now all you've got to do is pack for the weekend and plan your drive there and back; the following are well worth considering prior to any journey:
Choose A Designated Driver
If this is you, make sure you set the rules from the beginning. Are you going to allow your friends to drink alcohol in your vehicle? Bear in mind that their behaviour could attract the authorities to you. Would a car smelling of alcohol be the best thing for you? Could you get peer pressured to having "just one drink" with friends? We recommend for the driver and passenger to not drink any alcohol in the vehicle – not even one. Why not wait until you're at the festival so you can party together?
Planning Your Trip
Do you know where you're going? Have you taken into account the likelihood of traffic? Looking at the route of your journey and the time it takes beforehand gives you a chance to determine how many breaks you need and where you can stop off. Stretching your legs and getting a bit of fresh air at least every two hours can help you stay awake and focussed on the road.
Have You Pre-booked Parking At Your Destination
The last thing you want to do is to get to your destination and stress over finding a parking space. Pre-booking your parking spot will save you this hassle. If you're parking in a field, make sure you check the weather, the last thing you want is to go back to a water-logged field with your wheels stuck in the mud!
Leave Your Car Alone
You've been at the festival for a few hours and the party has started. It's getting a bit chilly but you've left your jacket in your car. Do you go and get it? No, not if you've been drinking alcohol. Even if you're not in the driver's seat but still accessing your vehicle, you could be charged for accessing your vehicle when over the prescribed limit. Instead of having to try and explain to a traffic officer that you weren't planning to drive, it's best to avoid going back to your car at all until the alcohol has left your system.
Packing Up The Morning After
Are you fit to drive? Have you had enough sleep? Do you have enough energy and has the alcohol from the night before left your system? Find out more about checking if you're okay to drive here. Don't forget to throw away your rubbish and take your tent home with you. And make sure you set some ground rules, like the fact that you're in charge of the playlist! "Whilst the focus of the weekend may be the festival and the opportunity to let hair down with friends, a carefully planned journey there, proper preparation and caution for the journey back will only add to the enjoyment of the weekend."
---
Caravanning Tips From IAM RoadSmart (Released 15th May 2019)
With another Bank Holiday on the horizon, there will be more people dusting off their caravan and packing for the long weekends. IAM RoadSmart has partnered up with the Caravan and Motorhome Club to offer some advice for a successful holiday trip.
Going away with the whole family and the caravan, trailer tent or camping trailer is a great experience, by ensuring that you load the caravan or trailer correctly, and deal appropriately with other traffic, you can help ease the stress levels, especially if you lack towing experience.
With the south west of England being a very popular place to visit, it is not surprising that the South West has some of the highest incident rates for caravans. Between January 2017 and May 2018 there have been 850 caravan or trailer incidents on main roads in the South West region, with 460 of those occurring in the Summer months of May to September last year; a sure way to put a sudden end to a lovely holiday. With the majority of caravans only being used over the summer months, this figure needs to be reduced.
Most incidents happen around the weekend. Nearly a third of all incidents occur on Saturdays and Sundays, with Mondays and Fridays not too far behind.
Caravan and trailer road-worthiness is just as important as your car's, and particular care is needed for that first Summer outing, as many are parked up and unused over the Winter.
We recommend that before you start your trip you make sure you have checked both your car and caravan or trailer. Especially check your tyres as they should be inflated to the correct pressure, have a good amount of tread (no lower than 1.6mm) and be free from damage
The caravan breakaway cable (or safety chain on smaller unbraked trailers) should be in good condition and connected correctly. If you have a caravan or a large box-shaped trailer you will almost always need to fit extension mirrors – these will help make sure you have a good view behind you and comply with the law
Remember when loading your caravan or trailer to make sure it is not overloaded as this can put you at additional risk of instability, and mean you're breaking the law. Ensure your heavy items are positioned correctly over the axle, low to the floor with lighter items higher up
A quick refresher of the Highway Code will remind you that travelling in the right-hand lane of a motorway with three or more lanes is not allowed and your speed limit when towing is 60 mph on dual carriageways and motorways and 50 mph on single carriageways, unless a lower overall limit is applies
Be extra vigilant on downhill stretches as your speed can easily creep up and get too high; his is a common contributory factor to your caravan/trailer losing stability. Remember, you will need more room to stop when towing and you should always have a big enough gap to be able to slow down and stop in an emergency
Towing in high winds needs additional care and perhaps a change of route should be considered. However it's not just windy days you need to be mindful of. Overtaking large vehicles can place you in their "bow wave" and this can cause instability of caravans which are badly loaded and/or being towed too fast
Martin Spencer, technical manager at the Caravan and Motorhome Club says: "Towing a caravan or other trailer can be unfamiliar, but doesn't need to be intimidating. By getting the basic set-up right, then following straightforward advice over issues such as speed and safety around other vehicles, towing can be relaxed, easy and comfortable. Above all, it will be safe. In almost all cases, serious incidents only occur because inexperienced drivers have not taken the right advice, or experienced ones have become complacent. The Club has 15 training centres across the country so anyone just starting out, or those needing some refresher training can receive the best possible guidance."
Neil Greig, Director of Policy and Research at IAM RoadSmart says: "The advanced driving skills of observation, anticipation and planning are key to good towing. They will keep you a safe distance from the vehicle in front and help you predict problems ahead and around you. If you prepare yourself, your family and your vehicles for the road ahead your trip will be as relaxing as possible."
---
No Age Barrier to Being a Better Driver (Released 13th May 2019)
Race and rally legend Paddy Hopkirk and his son Patrick achieved the highest civilian driving standard in the UK recently, when they both passed IAM RoadSmart's Masters with Distinction qualification. Paddy, 86, and Patrick, 47, were assessed on 8th May by Richard Gladman and Stuart Haythorn, who ensure that all driving standards are of the highest level for IAM RoadSmart.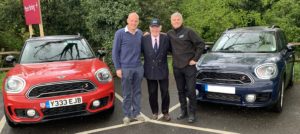 Paddy needs no introduction in the world of motor sport. Although he is famous for winning the 1964 Monte Carlo and 1967 Acropolis Rallies, he also raced at the fearsome Le Mans 24 Hours as well as many other circuits around the world. Paddy was also greatly admired for giving up a sure win in the 1968 London-Sydney Marathon to rescue, with his co-driver Alec Poole, a fellow competitor from his burning car.
For the past three years Paddy has worked as a volunteer for IAM RoadSmart as its Mature Driver Ambassador, travelling the UK talking about road safety and how older people can drive safely and with confidence on today's roads. Paddy and Patrick now join a select team of just 500 advanced drivers who have reached Masters standard with Distinction. There are around 1,000 Masters holders in total in the UK.
IAM RoadSmart Masters programme helps drivers take their talent to the next level; building on the individual's skills as an existing advanced road user, the Masters programme will help them enhance and develop their ability even further in the following areas:
Cornering principles
Assessing, planning and executing safe overtaking manoeuvres
Recognising opportunities to make safe progress, within the speed limits
Improving observation, anticipation and awareness consistent with vehicle speed
Applying sound judgement of speed and distance
Paddy has already taken IAM RoadSmart's Advanced Driving Course twice, (27 years apart), and the Mature Driver Review. He said: "It doesn't matter if you are a rally winner or a daily commuter, everyone can be a better driver. I really want to keep developing my driving skills because the roads are always changing, it is very important to be aware of what is around you, and to make sure that all road users are protected from the risk of injury as much as is possible.I enjoyed taking the Masters as did Patrick, and am delighted to have reached Distinction. It is proof that there is no age barrier to being better and safer behind the wheel. I especially learnt that the habitual use of mirrors is very important; it's the best way of getting the information you need to be a better driver."
Mike Quinton, Chief Executive Officer of IAM RoadSmart, said: "We are proud of Paddy who has worked tirelessly on our behalf. Taking the advanced test and the Masters is not for the elite; it is something everyone can try – and everyone will benefit from. It could even save a life one day."
---
Too Tired to Drive? (Released 7th May 2019)
Richard Gladman, Head of Driving and Riding Standards, shares some tips on how to avoid the dangers of falling asleep at the wheel.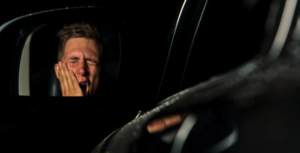 Extreme tiredness can lead to micro-sleeps; this is a short episode of drowsiness or sleep that could last a fraction of a second or up to thirty seconds. A car driving at 70 mph will travel 31 meters per second, giving plenty of time to cause a serious crash during such a micro sleep.
The effects of losing one or two hours of sleep a night on a regular basis can lead to chronic sleepiness over time. So ensure you are well rested and feeling fit and healthy before you set off on any journey.
Make sure you take regular rest breaks to split up the journey when driving on a long, boring stretch of a motorway. It's good practise to stop at least every two hours and it's essential to take a break before the drowsiness sets in.
If necessary, plan an overnight stop. If you feel too fatigued to carry on driving, then book yourself into a hotel at the next service station and sleep it off. Wake up fresh with a good breakfast, and carry on your journey. It's good to note that a caffeine high may be a quick fix, but it is not a long term solution and certainly no substitute for proper sleep.
You're bound to be tired after a full day at work, so avoid setting out on a long drive after you have finished for the day. It's best to start your journey earlier on, and when you're more alert.
If possible, avoid driving between the two peak times for sleepiness. These are between 3am and 5am and also between 2pm and 4pm.
If you have taken prescribed medication, then seek advice from your GP as to whether you should be driving or not. If bought over the counter, then read the instructions on the pack or speak to a pharmacist.
Even the fittest of us need regular sleep to perform at our highest standards. Driving requires full concentration at all times and if you are tired, your ability to concentrate is reduced. Our internal body clock (circadian rhythm) is usually set to deal with our normal lifestyle, extra care needs to be taken when driving during a time we would normally be at rest. Stop, rehydrate and rest if you need to.
---
Eight Essentials to Keep in Your Car (Released 2nd May 2019)
Make sure you're all set this coming Bank Holiday weekend; Richard Gladman, IAM RoadSmart's Head of Driving and Riding Standards, provides the eight essentials that you should always keep in your vehicle.
It's always best to keep an ice-scraper and can of de-icer in your vehicle as the British weather is so unpredictable, and can be sunny one day and frosty the next.
Carry an empty fuel can with you. Don't carry a full or partially full one as this is a fire hazard and if it has recently had fuel in it, flammable vapour may still be present.
A first aid kit, keep one in the boot of your car so it's always handy for either yourself, or another road user if you're first on scene at an accident.
If you've broken down on the side of the road, the last thing you want is to be cold and unable to see your way around the dark. That's why we advise drivers to always keep a torch and set of batteries in their vehicle, along with warm clothes, a blanket and a high visibility jacket. And don't forget food and drink to stop your energy levels from dropping – bottled water is a must.
The battery on your car can go flat at any time, whether you're popping to your local fish and chip shop or picking your vehicle up from the airport car park. Make sure you keep a set of jump leads in your car so you can start your engine with help from another driver's vehicle.
Keep a spare pair of sturdy shoes with a good grip in your car. You'll need these to turn the wheel brace when changing a tyre, or to push your car if you've broken down, or even just to change shoes if there's a sudden weather change.
A reflective warning triangle. This gives you extra security for a number of reasons such as breaking down in the dark. Put it out in accordance with the rule from the Highway Code 274 which advises to "Put a warning triangle on the road at least 45 metres (147 feet) behind your broken-down vehicle on the same side of the road, or use other permitted warning devices if you have them. Always take great care when placing or retrieving them, but never use them on motorways."
A lot of us use our Sat Nav to travel to unfamiliar places, but what if your battery dies and you can't find the charger? Or what if it takes you the wrong way? The best thing to do is to refer back to your trusty road alas, so don't forget to purchase an up-to-date copy every year and keep it in your car. A good rule of thumb is to take a look at your road map before you set off to get an idea of the direction you need to travel in. Find yourself a place to aim for or motorway signs to look out for.
Last but not least your mobile phone. Switch it to silent and place it in the glove box to avoid any temptation to touch it, but it will be there ready to use when and if you need it.
A journey can be a pleasant experience with the right planning. But it can turn into a nightmare if circumstances change and you do not have the right tools for the job with you. Getting stranded either in suddenly changing weather conditions, breakdowns or road closures will be made more bearable if you can let people know where you are, and survive in relative comfort and safety until you can get safely where you're going.
---
Over 11,000 Drivers Hold Licences Despite Having 12 or More Penalty Points (Released 29th April 2019)
IAM RoadSmart has expressed its frustration that six years after calling for action, more than 11,000 drivers a year are still being legally allowed on the roads with 12 or more points on their licences.The issue was brought back into the spotlight this month when Justin Madders, MP of Ellesmere Port and Neston, asked Secretary of State for Transport Chris Grayling how many holders of UK licences with 12 points or more have been allowed to continue driving. The DVLA replied that as of 9 April 2019, the number of people with 12 penalty points or more who have an entitlement to drive is 11,105. Although six years ago there were 12,470 drivers with more than 12 points on their licences on the roads legally, IAM RoadSmart is still highly concerned that these numbers still run into five figures.
Despite proposing several ways to fix the issue of such an unacceptably high number of drivers holding licences legally after committing multiple driving offences, little obvious action appears to have been taken in the past six years.
Six years ago, IAM RoadSmart discussed a series of measures to tackle the issue with the DVLA:
Where 'exceptional hardship' has been used as an excuse for not losing a licence, that the reason for this plea is recorded. Then the driver cannot use the same excuse twice
The DVLA was due to introduce a new computer system which would allow courts to see past offences and reasons given
The courts with the poorest records of not banning drivers who have over 12 points should be named and shamed
Better training for magistrates and better sharing of information with DVLA.
Neil Greig, IAM RoadSmart Director of Policy and Research, said that while there is now better sharing of information between courts and the DVLA, many decisions on whether drivers should be banned are made by the courts without enough information from the DVLA, a process that needs to change urgently. "The DVLA told us they would sort this issue out years ago, and judging by the current numbers, it simply has not happened effectively enough. Licences need to be removed and drivers who have committed repeat offences encouraged to take remedial courses to bring home the impact of their behaviour and promote safer, more responsible driving behaviour in future. IAM RoadSmart calls on the DVLA to quickly extract all such cases manually and ask courts why there has been a non-disqualification on 12 or more points, so appropriate action can be taken to get irresponsible and dangerous drivers off our roads. Quite simply these are drivers who should be banned. Allowing them to continue to drive in all but exceptional circumstances not only undermines public trust in the well understood 'four strikes and you're out' totting up method of driving punishments, it also put these motorists and other road users across the UK at greater
Additional information from Hansard:
"Some of these drivers will have already served a disqualification which expired before the penalty points attributed to the offence(s). Some will be drivers who had cited 'exceptional hardship' to the court after they had reached 12 penalty points under the 'totting-up' provisions. In these circumstances the disqualification may either be avoided or significantly reduced."
---
Usage Based Motor Insurance (Sunday Express Newspaper 21st April 2019)
Motor insurance is changing gear, as a new breed of insurers aim to give drivers personalized cover based on their driving habits and when they use their car. This has been driven by "telematics" or "black box" policies which help young drivers to cut their premiums by showing that they are responsible on the road.
Insurers such as Admiral's Littlebox, Carrot, Coverbox, Insurethebox and Marmalade offer telematics, while mobile phone apps such as Aviva Drive and Direct Line's DrivePlus can also monitor how you drive. They measure your speed, braking, cornering and mileage when you drive and reward safer behaviour with lower premiums at renewal.
The overall concept is expanding into other areas such as "pay per mile" cover for low mileage drivers; the question here is; could this type of innovation cut your premiums? Telematics offers the biggest saving for newly qualified drivers who face first typical year premiumsof nearly £2,000. (GoCompare Data).
Telematics has saved thousands of lives with the number of 17 to 19 year olds dying in road collisions down a third over the last six years according to LexisNexis Risk Solutions. Global Telematics Director Graham Gordon said eight out of ten young drivers now opt for telematics with the sharp decline in casualties showing how effective that choice is. Gordon said that older drivers typically use their cars less often, drive at quieter, safer times and take fewer risks whilst driving; telematics could therefore be ideal for them.
Seven out of ten over sixty-fives have no worries about using the technology to calculate premiums and say telematics could prove their inncoence in a speeding case or a collision. Telematics can also help with sto;len vehicle recovery or instantly alert your insurer if you have a crash; invaluable if you are travelling alone or are in a remote area. Telematics can also help the elderly driver work out when it is finally the right time to stop driving as reaction speeds deteriorate.
James Blackham, Chief Executive of pay-per-mile insurers "By Miles" said telematics should not just be for the young driver; it can make insurance fairer and more flexible for all. Blackham said that a long standing problem with car insurance is that you are paying for somethign that you may only use for a few hours a week. By Miles charges from £150 per annum for fully comprehensive for parking then from 3p/mile whilst you drive. Someone driving 4,000 miles a year could be paying as little as £270 a year  depending on their driving history and make and model of car.
Victoria Newman, spokeswoman at Admiral Insurance said eight out of ten Littlebox customers see their premiums fall at renewal but said that only 1% of their customers were over sixty-five. One thing holding back older drivers is that they are already known to be safer and are already paying lower premiums so have less incentive to try telematics.
(The above article was by Harvey Jones and appeared in the Sunday Express on 21.4.2019)
---
Easter Break Tips from IAM RoadSmart (Released 17th April 2019)
If you're planning a Bank Holiday getaway then be sure to read our tips on how you can make your journey a safe and stress-free one, because a little preparation goes a long way.
Take some time to check your vehicle inside and out before you set off. Check the tyre pressure and fluid levels are right and make sure your car ancillaries are working properly
Secure your luggage in your boot so it's out of the way and doesn't obstruct your view
Give yourself plenty of time for the journey and check the news for any traffic updates and roadworks nearby. Use the WAM website for local traffic updates. (These are continuous feeds from all the regional emergency services)
If you're travelling during the early hours or late in the evening make sure you take some rest beforehand and eat something light so you don't feel sluggish before you leave
If you plan on using a sat-nav don't forget to programme in the destination before you leave and check it. Leave plenty of time for the journey so you don't find yourself pushed for time.
Make sure you take regular rest breaks to split up the journey when driving on a long, boring stretch of a motorway. It's good practise to stop at least every two hours
If your journey is a long one, take some time to plan where and when you will be taking a break, just so you can get a little rest and have some water to stay hydrated. Enjoy the journey and more importantly, enjoy the getaway.
---
Dealing with Vulnerable Road Users (Released 10th April 2019)
As we make the same commute every day to work and back, we can get used to seeing pedestrians on the streets, motorcyclists on the road and even a few cyclists appearing now that the season is officially changing and the weather is improving. This can sometimes mean we get a little too used to the things around us and may unintentionally stop paying attention to our surroundings.
Check to see the type of pedestrians around you. Do you see an elderly person crossing the road? They may be walking slowly so ensure they feel safe by reducing your speed. Children can be easily distracted and are unpredictable too, especially when crossing the road, so do all you can to help them out. Drive with care and be vigilant as a few extra seconds added to your day may make all the difference.
A cycling club will often cycle as a group rather than in single file. This makes it safer for all of us; a simple overtake on a short group is often easier and safer to achieve than thirty overtakes on separate cyclists. Before you overtake them, make sure you have given them enough room as they could adjust their road positioning unexpectedly for a pothole or drain. A few seconds delay is better than a lifetime of regret. It's always good to remember that a young, fit individual on a bike is likely to be more stable than an older person doing their shopping run.
Take note that there are two types of mobility scooters. Class 2 Mobility Scooters are only allowed on pavements and have a top speed of 4mph. Class 3 Mobility Scooters should be registered and are driven on the road with a top speed of 8mph. Bear in mind that this group of road users may have restricted movement, vision or hearing so give them plenty of space and time.
Have you thought about taking a more scenic route now that the days are getting lighter for longer? You may come across a horse and its rider walking along the side of the road. To avoid scaring the horse, turn the radio down and keep the engine revs low. Slow down and take your time when passing a horse. Keep your car well away from them and proceed with caution.
Who has heard of SMIDSY ("Sorry mate, I didn't see you")? This is a regular acronym in a motorcyclist's dictionary and often our strategy when looking for a culprit! The science behind this is called Saccadic Masking. The simple explanation is that people don't see clearly when their head or eyes are moving, and they don't pick up objects travelling towards them very well. So make sure you have a good look, not just a quick glance. A good tip is that if you're specifically looking for motorcyclists or cyclists, then you are more likely to see them.
Richard said: "The importance of sharing the road space and understanding the needs of other road users cannot be stressed enough. If we are aware of vulnerable road users, we can make provisions to keep us all safe. Remember to treat others how you would like to be treated."
---
Better Drivers Can Reduce Road Deaths and Injuries in the UK (Released 9th April 2019)
In his new role as Chairman of IAM RoadSmart, the largest independent Road Safety Organisation in the UK, Managing Director of Ford of Britain, Andy Barratt, has pledged to focus on driver behaviour in the road safety debate. (Andy has taken on the prestigious role of IAM RoadSmart Chairman from Ken Kier OBE, who steps down this month having been in the role for three years).
In his new position, which started on 1 April 2019, he launched a revamped IAM RoadSmart Manifesto. The Manifesto highlights the seven areas where IAM RoadSmart believe they can make the most impact in reducing the number of people killed and injured on UK roads. With an emphasis on the potential that improved driver and rider behaviour could have on the safety of our roads, the Manifesto acknowledges the importance of driving to both the economy and business, it is seen as a core skill for business and a health and safety responsibility for all organisations in the public and private sector.
The new Manifesto will form the basis of a submission from IAM RoadSmart to the House of Commons Transport Committee Inquiry into Road Safety.
Speaking of his appointment, Andy said: "To be appointed Chairman of IAM RoadSmart is an honour. I wholeheartedly support IAM RoadSmart's Manifesto pledge that post-test training is vital for safer roads. I'm delighted to be taking a leading role for a charity whose principal purpose is to make better drivers and riders.  In my roles at Ford, developing safe vehicles is the number one priority. In taking the Chair of IAM RoadSmart, my focus will be to ensure that human factors are high on the road safety agenda in order to reduce the number of people killed and seriously injured on roads in the UK. As a cyclist, driver and pedestrian I've been pleased to lead Ford's 'Share the Road' initiatives, encouraging cooperation and understanding between road users. As a motor industry representative chairing IAM RoadSmart, I believe that we can continue to find common ground, cooperation and practical ways forward to make sure that real change happens, with vehicle makers, politicians, the media, and with all road users."
IAM RoadSmart's Manifesto focuses on the importance of boosting the confidence of drivers and making it an enjoyable activity, while keeping everyone safe at the same time.  Embracing all stages of a driving and riding career from immediate post-test into older age, the Manifesto underlines the importance of periodic refresher courses. It also includes extending driver rehabilitation after a conviction for a wider variety of motoring convictions, it also highlights the changing world of new technology as the switch to autonomous and connected vehicles continues to gather pace.
Mike Quinton, IAM RoadSmart Chief Executive Officer, said: "I am delighted that we have attracted someone of the calibre, standing and seniority in the UK automotive industry as Andy to the role of Chairman. I am confident his knowledge and contacts will be invaluable in driving us forward and I look forward to drawing on his skills and leadership experience."
---
Dealing with Low Sun Whilst Driving (Released 3rd April 2019)
Now that Spring is here, the sun is rising earlier and flowers are blooming; however, being dazzled by the sun can be a major distraction and is often a factor in Summer collisions.
Even though we have many tools that aid in protecting us from the glare, we often forget to use them.
Keep your windscreen clean both inside and out; a dirty screen will magnify the glare and create a distraction
Check your windscreen for chips or cracks, replace worn wiper blades and make sure your washer bottle is kept well topped up with good quality screen-wash to help remove those Summer bugs and keep windscreens smear free. (A periodic clean of the outside of the windscreen with white vinegar will help keep it free of traffic residue)
Keep a cloth or chamois to wipe away the dirt that builds up on the inside; do not be tempted to do this cleaning whilst on the move
Use your sun visor. It may sound obvious but a surprising number of people forget that the facility is fitted to their vehicle
Invest in polarised sunglasses and remember to take a rest. Your eyes will strain quickly if you are squinting. Read our sunglasses tips for more information
If you are dazzled by the sun, slow down and leave extra space between yourself and the driver ahead
Remember that when the sun is low behind you, you might be able to see clearly but oncoming drivers might not
It's easy to get distracted when the sun is out and the world seems a better place. By keeping the screen clean and your view shaded where possible, you will give yourself the best chance of staying safe. If you are wearing sunglasses, bear in mind that the protection they offer will be magnified by any tinted windows and remember to keep them clean and be ready to take them off in tunnels or shaded areas. (Those of us who wear prescription spectacles should have a pair of current prescription sunglasses always to hand,the clip-on lenses are not recommended as they often create distortion when used with other lenses.
A Spanner in the Works – A Blog of Interest from Tim Shallcross (Released 3rd April 2019)
I was visiting a classic car show recently and chanced across The Motor Repair Manual, a book for the home mechanic dating from the 1930s.
The term DIY wasn't invented back then, but the sub title A Practical Handbook for Owner Drivers And Amateur Mechanics makes the intended readership clear. The first section deals with the tools and equipment the home mechanic should expect to have in his workshop … the 1930s home mechanic is, of course, a chap.
Apart from the spanners, drills and hammers you'd expect, advice is given on choosing a good lathe (of course you need one – how else would you obtain a washer?) along with guidance on the furnace you need for annealing, tempering and case hardening metals – essential skills for making bushes and bearing scrapers or flanging pipes.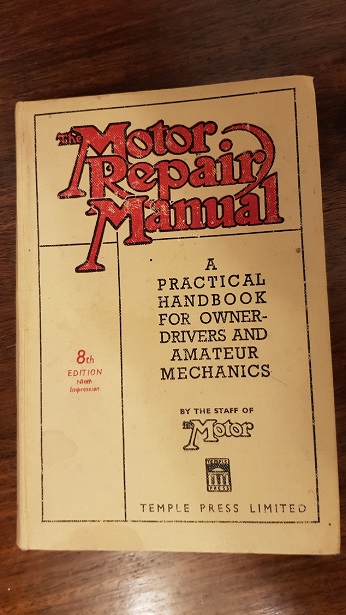 All this reminded me how much car owners were expected to do to keep their cars on the road; it was intriguing to see the classics at the show, and to recall how many British manufacturers encouraged the driver to be his own mechanic by providing a pretty comprehensive tool kit with the car.
This was not just wheel changing essentials such as a jack and wheel brace. Screwdrivers, adjustable wrench, a big hammer (always a mechanic's friend) and of course, the inevitable grease gun, were all tucked away for use by the owner.
Concealing the tool kit led to some innovative designs as well; a 1933 Singer, more or less contemporary with the book, shows an impressive array of tools mounted on a tray under the bonnet, while other car makers installed trays or secret drawers. The practice of supplying a tool kit continued after the war.
Triumphs came with a tool roll in the boot, as did MG cars. The Sunbeam Talbot had a panel covering the inside of the boot lid which let down to reveal jack, stirrup pump, wheel-brace, starting handle and grease gun. Rover continued to supply a comprehensive set of spanners, screwdrivers and pliers, along with body touch-up paint, in a special drawer right up to the last of the 3.5 litre saloons in 1973.
My own fascination with the mechanical bits of cars started in the era of proper car toolkits, feeler gauges, tappet spanners and the smell of Swarfega! Grease guns were mandatory since all cars had various points on the chassis and suspension which must regularly be lubricated. The points were called grease nipples, much to the sniggering a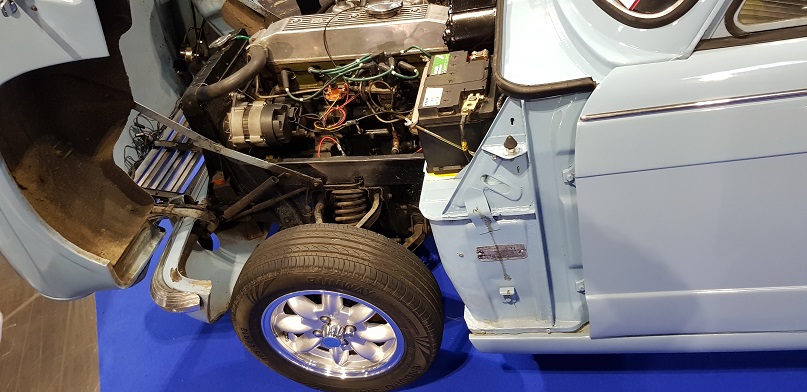 musement of adolescents passing their father the spanners on a weekend afternoon.
More upmarket owners weren't expected to get their hands dirty of course, chassis lubrication on Rolls Royce and Bentley cars was by means of a pedal operated pump which the owner (or maybe chauffeur) had to press every so often. This was also featured on some MG's. The MGY even had the Smiths Jackall built in hydraulic jack system, operated from the driving seat and advertised as making it simple for the owner to adjust the brakes, as well as for wheel changes. My interest with mechanical details evolved into a job and many years ago I was an AA Patrolman, working on the cars which now grace the aisles of the show.
Triumphs were always a favourite of mine; not because of their looks, performance or handling, but because with the forward opening bonnet raised, you had a very handy seat on the front wheel while working on the engine. Today, even the wheel-changing kit is vanishing as car makers wean us off our desire for a spare wheel.
All my current Mercedes has is an electric tyre pump and a can of sealant; although BMW and Mercedes-Benz did carry on with tool kits long after the British, still supplying some models with a decent array of spanners to get the owner out of trouble until well into this century. Is this progress? Well, yes, modern cars need far less attention than those of my youth; no nipples to grease, no tappets to adjust, no contact breakers to clean.
A service is now an oil and filter change and a visual inspection of everything else. Most things under the bonnet are electronic and run by computers, the remaining mechanical bits last for tens of thousands of miles, rust is rare and reliability is more or less taken for granted.They go the equivalent of half way around the world before any servicing is needed and if we take a few minutes to check the levels regularly, they can soldier on to astronomical mileages.
Tool kit? It's in the shed with the lathe and the furnace!
---
New Laws on Car and HGV Safety Systems a Potential Licence and Life Saver (Released 27th March 2019)
IAM RoadSmart has welcomed moves to make Autonomous Emergency Braking, (AEB), standard on all new cars within three years, calling it an undoubted life-saver.
A provisional European Union agreement on the legislation was reached on Monday 25th March 2019. The rules include requirements for AEB which can detect and react to pedestrians and cyclists in front of the vehicle, as well as the installation of overriding Intelligent Speed Assistance (ISA). Additionally new lorries will be expected to have better levels of direct vision to give drivers a better chance of seeing vulnerable road users such as pedestrians and cyclists.
Neil Greig, IAM RoadSmart Director of Policy and Research, said: "It should be remembered that excessive speeding is a factor in 14% of fatal collisions whereas human error is present in 64%. Speed limiters have a role to play but on their own cannot eliminate all collisions. Advanced Drivers don't need to be reminded electronically what the speed limit is, but for others it could be a real life-saver, and help people to not lose their driving licences. ISA as proposed for all new cars after 2022 will be able to be overridden so it is not the 'Big Brother' solution that some sources suggest.
Are Your Wheels Too Tyred To Drive? (Released 27th March 2019)
It's important to regularly check your tyres to see if they're fit and healthy to get you from A to B safely. That's why IAM RoadSmart's Head of Driving and Riding Standards, Richard Gladman, has put together some top tyre tips to help you stay safe on the road.
Check your tyres regularly. We recommend weekly vehicle checks which include inspecting tyre pressure, tread depth and the overall tyre condition
On a car ensure that your tyre's tread depth is at least 1.6mm
Use the 20p Test by checking your tyre tread with a 20p coin as shown below, placing it into the main groove of your tyre. The outer band of the 20p coin should be obscured when it is inserted.
Always ensure that your tyres have the correct pressure. You can find this information in the vehicle manufacturers' handbook, on the inside of the fuel filler cap or driver's door sill, and you can get this information when purchasing tyres.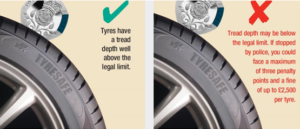 ---
Driving with Technology (Released 27th February 2019)
Mobile communications and GPS systems used as sat-navs are becoming very common in cars. Whether you are connecting your Bluetooth to blast tunes or looking for the nearest Waitrose, these have become a fundamental part of the daily drive for many of us.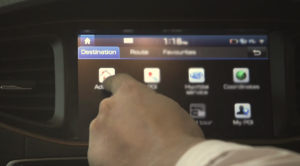 Whilst a sat-nav aids in getting you from A to B try to not become reliant on it. It is important to pay attention to road signs and the road ahead, in case there's a diversion sign that the device may not have picked up.
Get to know your sat-nav before you set off and always programme it when stationary. Many people trust their sat-navs not to get them lost but you also need to know about roadworks, diversions and places to stop. Keep an old fashioned map to ensure that you limit the chances of going completely off track
Create your playlist before you start your journey. Taking your eyes of the wheel to look or adjust your music can often prove to be hazardous. It only takes a few seconds distraction to cause an accident. Remember to also keep your music down in some circumstances; your hearing can keep you safe, so be prepared to turn the music off
Don't make or take calls when driving and never text or engage with social media on your smartphone. Through extensive research it has been shown that making calls, even hands-free, affects concentration and slows reactions when driving
Some vehicles have the ability to create a Wi-fi zone allowing internet access. This should be used as a luxury for passengers whilst ensuring they do not distract you as the driver. For instance a computer screen reflecting in the dark is a dangerous distraction
The latest driver assistance systems can be the perfect back-up to cover our occasional human failings but are no substitutes for concentration. The driver must always remain connected to what is going on around them.  Multi-tasking is a myth and all too often that glance away can become a complete switch-off to an emerging risk.  No text, tweet, check in or status update is worth crashing for.