An Article Published in The Smestow Vale Grapevine
How would you like to become one of the most skilled drivers on the road? Anyone who wants to develop their skills and get more from their driving is an ideal candidate for an Advanced Driver Course from IAM RoadSmart. Don't find yourself in the position shown below.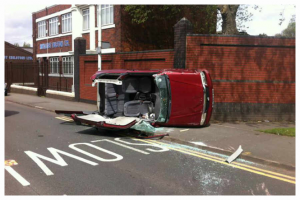 You will drive with a qualified expert, who will observe the way you drive and offer suggestions and tips for improvement. You will become more aware of other road users and how to adapt to different conditions. It usually takes between three to six months to progress to your test. This does depend on frequency of drives. The test takes around ninety minutes of which sixty minutes will be actual driving covering a number of different routes and scenarios including country roads and motorways.
Once you have passed you will become a Full IAM RoadSmart Member and you can often receive insurance cost reductions as a result. Around 90% of IAM RoadSmart Members receive preferential terms against all leading insurers within the UK. In this IAM RoadSmart have their own insurance broker, Surety, whose staff are not only all members of IAM RoadSmart but also dedicated to providing Members with the best possible cover at the best possible price. As an Advanced Driver you will also save on maintenance and fuel costs as you will become a more efficient driver.
The cost of membership is £149 which includes all your drives with a qualified expert providing guidance, a copy of the course manual, your Advanced Driver Test fee, your first year's membership of IAM RoadSmart, a year's subscription to our member's magazine and membership for one year of your Local Advanced Motorist Group.
The Wolverhampton Advanced Motorist Group is 40 years old this year and anyone considering applying will receive a reduction of £40 in the fee refunded on completion of the course and their successful passing of the Advanced Driving Test. The course is for drivers of any age so if you think that you know someone who might benefit from the course then please contact us.
Wolverhampton Advanced Motorists is your Local Group and a registered charity in its own right. If you would like to discuss any of the above you can speak to one of the Group Observers, Nigel Packer, on 01902 897203.
Alternatively contact us by clicking here. or by going to our Contact-us page