Group Treasure Hunt 9th September 2018
The Group Treasure Hunt was enjoyed by all and benefited from the excellent weather. The following was written by two of the Group Members, Peter and Pat Sills.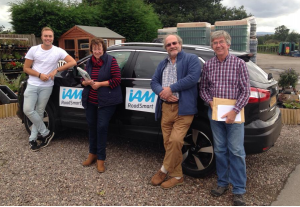 We would really like to say how much we enjoyed the Wolverhampton Advanced Motorists Treasure Hunt that was held on Sunday September 9th 2018.
Arriving at Himley, we were welcomed by Nigel Packer, who gave us our instructions and as 'Team 4' driver and navigator, we were registered and soon on our way.
The instructions were really clear and it was great fun to look for the clues and to work out a few cryptic challenges (or not!). As we motored on through the Staffordshire countryside looking for answers, we caught up with other teams and exchanged good natured 'banter', secretly hoping we'd got there first!
We thought we knew the area very well, but were amazed to pass through villages and hamlets, seeing properties and landmarks we had no idea existed. We even encountered a vintage tractor rally. Respect for some of those drivers, on the narrow lanes!
Morning challenge over, we were able to enjoy our picnic in Ackleton Village Hall, take a stroll around the village for a few more clues, attempt a few possible tie break questions and then get set for the afternoon directives.
We learned so much. Had no idea that an ABUS is a padlock and that a great deal of related information can be seen on one. Older signposts often measure distances in small fractions of a mile. Quick think back to secondary maths, to convert quarters to eighths and then 'hey presto', we could solve the clue and then move on.
Welcome finale at Halfpenny Green Vineyards, where we enjoyed chatting about our experiences over tea and cakes. It was great to meet David Gallagher, who joined us on the treasure hunt. As the Young Driver's Ambassador for IAMS, it is very refreshing to know that there is youthful interest. We do hope more Members will participate in a similar, future event. Thoroughly recommended.
Peter and Pat Sills