Wolverhampton Advanced Motorists again attended the Himley Mini Show. We had a stand adjacent to Ryland Mini which helped us with people stopping to have a chat. We were also lucky enough to have the near concourse standard Mini Mayfair owned by one of our Observers on the stand which was a great talking point.
 A good number of leaflets inviting people for Free Assessment Drives were handed out and discussions were had with a fair few younger drivers who were interested in the offer from the Group to reimburse them their IAM RoadSmart joining and Membership fees on their passing their Advanced Driving Test.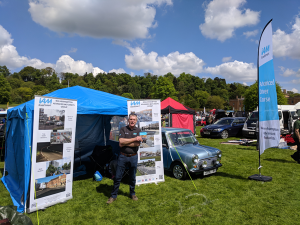 The weather was better than it had been for a while and it was certainly a good day for everyone involved.