Cornmarket Surety Insurance Regional Meeting 12th June 2019
Wolverhampton Advanced Motorists hosted Libby Morgan and Michael O'Kane from Surety at their Group Meeting on 12th June 2019.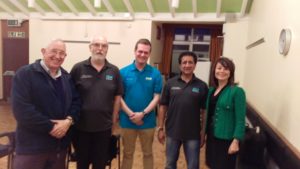 Les McDowell from South Staffs Drivers
Paul Williamson our Chairman
Michael O'Kane IAM RoadSmart Manager at Surety
Christopher Smith our Events Manager
Libby Morgan Surety Business Development Director
The presentation given gave a detailed understanding of the challenges that are being faced by brokers such as Surety, challenges from, not only the insurers that they use but also from the regulatory authorities which restrict how they interact with us as Customers and provide the service that we want them to. Many of the complications that we face are fundamentally not created by Surety!
The relationship between Surety and IAM RoadSmart was discussed and it was appreciated just how important we are as IAM RoadSmart as we constitute some 60% of their overall business; we DO command a degree of attention that would not be available from other brokers or direct supply sites such as Direct Line and Aviva.
Key to Cornmarket Surety is that they offer "Advice" to their Customers rather than just presenting information. This was something that no one at the meeting had noticed per-se, however it became apparent from exchanges that took place that indeed Surety did make positive recommendations and gave advice whereas other companies simply present details and leave the "understanding" up to others. There was a general agreement that all interchanges with Surety were positive and "pleasant" and their staff was commended despite the challenges that they faced.
Presentation to IAM Groups Surety June 2019
There was much discussion about the value of Fellowship and Masters qualifications and the reasons for their recognition by the insurers that are used by Surety. The wide range of other insurance that was now provided by Surety was covered, not so much as a sales pitch but as a simple, "we can do more for you if you ask", presentation.